ezPORT Wet Panel Carrier
Model WPC-1216G OUT OF STOCK
This unit is designed to accommodate two gatorboard panels per slot or two 1/8" panels.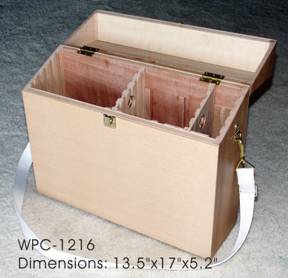 ezPORT is a compact size, lightweight transportation utility for wet panels. It's designed to the maximum loading capacity and versatility. ezPORT is the ideal wet panel carrier to travel with or for attending workshops across the country.
Weighing at only 4.5 lbs, the ezPORT is the first of its kind designed for large capacity, lightweight and durable use. Its versatility allows different panel sizes to be carried in one box. During painting trips or workshops, artist often want to have choice for different sizes of panels to paint on location (this depending on location, light and weather condition). The artist can choose to bring more than one size of panels, and then transport them safely from location to location. ezPORT provides all the above features and satisfies all the needs of the artist.
ezPORT model WPC-1216G includes three carefully designed removable dividers. Divider A is a panel with double sided channels. Divider B is a narrow panel with double sided channels. Divider C is a panel with single sided channels. Inside the ezPORT model WPC-1216G there are four pairs of vertical tracks 1, 2, 3, and 4 for the dividers. Each divider can be inserted into one of the four tracks providing many different combinations of panel sizes.
Depending on how you organize the dividers in the tracks, you can carry many different sizes of wet panels in a single box. The box is designed for panels with thicknesses of 3/16" (Gatorboard), 1/8" and 1/4". When panels are placed back to back the maximum storage doubles.
Model WPC-1216G Price : $99.00